Prestige Subaru is dedicated to making an impact on our community in a big way. Read below to see upcoming events in and around our community, and get involved to help us make a difference.
MANNA FoodBank
January 2021
---
Prestige Subaru is now a drop off site for Manna Food Bank. We have barrels in both our New Car Showroom as well as our Prestige Adventure Center. Consider bringing some items when you come in to purchase a vehicle or to have your vehicle serviced.
Blood Drive
Saturday, Jan 21st | 11am - 4pm
---
We are hosting a Blood Drive between 11am - 4pm at the Adventure Center Building, 599 Tunnel Road, in front of the Express Lube Center. A Free Sweatshirt to those who give blood (while supplies last).
Asheville Humane Society Pet Adoption/Food Drive
February 2021
---
As part of the 7th annual Share the Love event, $250 from every Subaru bought or leased will be donated to a choice of charities including the Asheville Humane Society! Stop in and join us for Share the Love this holiday season!
Taste of Compassion
February 2021
---
Support Asheville Humane Society and the amazing work they do here in Western North Carolina! A phenomenal event filled with good people, good music, and goodwill united under one roof in support of a truly great organization. We really believe in the passionate work of AHS and are excited to see the continued support and growing success of Taste of Compassion!
Jersey Night
February 2021
---
Throw on your jersey and come have some fun at Great Outdoors Night @ McCormick Field! Come out and enjoy the game!
---
Past Events at Prestige Subaru
Asheville Humane Society
February 2020
---
This past week, our amazing friends at Prestige Subaru presented a $75,851 check to local animals in need!!! Once again, Asheville Humane Society was incredibly honored to be chosen as the Hometown Charity during Subaru of America's Share the Love event! Subaru of America donated $250 for every new Subaru sold or leased to the customer's choice of four national charities or the Hometown Charity, and Prestige Subaru matched each donation at $150. We are so grateful that so many community members chose to 'Share the Love' with our animals! Thank you, friends!!!
In total, Prestige has donated over $100,000 to Asheville Humane Society this past year, which means one in five animals found their loving homes thanks to Prestige Subaru's generosity and support. To show our appreciation, we dedicated our new "Red Carpet Adoption Step & Repeat," featuring Prestige Subaru's logo, during the check presentation. Every adopter can now take their first family photo with their new pet in style! We hope this small tribute will be a constant reminder of Prestige Subaru's continued compassion toward homeless animals in our community.
(And we personally love supporting Subaru too... as you can see from our own parking lot! It's starting to look a lot like Subieville!)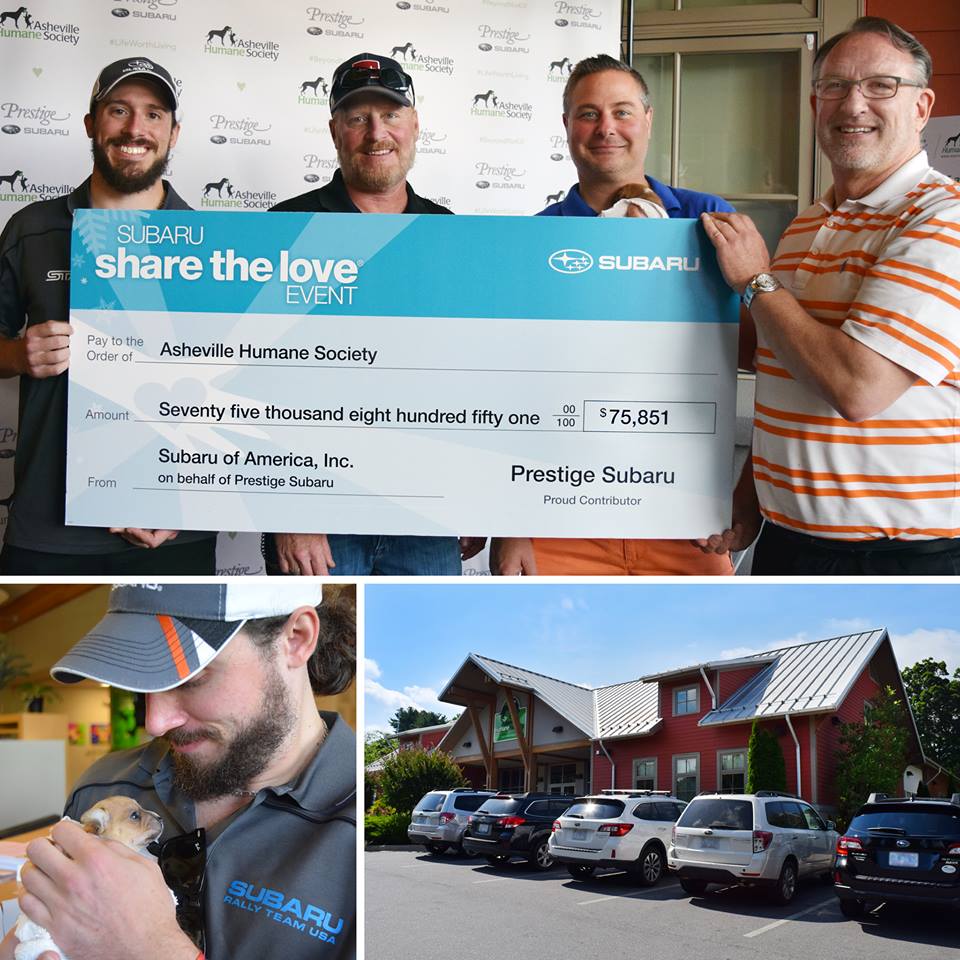 Mission Heath SECU Cancer Center
March 2020
---
We had a wonderful Wednesday morning delivering blankets to the patients at the Mission Heath SECU Cancer Center as part of the Subaru Love Promise. Thank you Mission Health and LLS for all the wonderful work you do!