Prestige Subaru is dedicated to making an impact on our community in a big way. Read below to see upcoming events in and around our community, and get involved to help us make a difference.
Dine to Be Kind
April 5th, 2022
---
Come out and join us for Dine to Be Kind Tuesday, April 5th, at your favorite local restaurant, where 15-25% of your bill will be donated to the Asheville Humane Society! Check out the list of restaurants and make your arrangements so you can Dine to Be Kind on April 5th! Details and participating restaurants can be found here
Asheville Tourists Baseball is Back
April 6, 2022
---
Asheville's favorite hometown team is back in action on April 6th for a home exhibition, and returning full-swing for a 6-game home series opener against the Greenville Drive on April 12th! Get your tickets today, and get ready to root-root-root for your Asheville Tourists! Check out their schedule and purchasing options here
Downtown After 5 Returns
April 15, 2022
---
Asheville's biggest street party returns this year, kicking the Downtown After 5 season off with an additional April event! Come out and join us downtown on Lexington Avenue Friday, April 15th after 5pm for a street party like none other, with great food, vendors, local beer, and fantastic music from one of Asheville's favorite groups, The Fritz! See you Downtown After 5! 
Subaru Loves the Earth Month! Earth Day Trash Bash
April 23, 2022
---
At Subaru, we believe in making the world a better place. It's why we build fuel-efficient vehicles in zero-landfill plants. It's why we forge partnerships that empower our people and our customers to engage with and improve the world around us. This year for Subaru Loves the Earth, Prestige Subaru will partnering with the Riveter for the 2022 Earth Day Trash Bash where we will be celebrating Earth Day while cleaning up our local river and roads! Join us on April 23rd at the Riveter!
Get in Gear Fest
April 23, 2022
---
Get in Gear Fest returns this year will an all-new and improved setup this year at Camp Rockmont in Black Mountain! Experience the latest and greatest in the outdoors with the Outdoor Gear Builders of WNC, showing off their latest gear, products and offerings, all originating from our backyard right here in Western North Carolina. Come out and join the fun Saturday April 23rd from 10a- 7p, where we will have outdoor gear demos, activities for the whole family, classes and clinics, as well as food, beer, and live music, featuring Dangermuffin! On top of that, if you drive a Subaru, you will get free Subaru VIPparking upon arrival, as availability permits! Details are here
Dining Out for Life
April 28, 2022
---
Dining Out for Life is returning in full capacity this year Thursday, April 28th with over 100 participating local Asheville restaurants donating a percentage of each and every bill to WNCAP! For twenty years our very generous restaurant community has raised hundreds of thousands of dollars for WNCAP, the oldest HIV/AIDS service agency in Western North Carolina. Today, WNCAP's mission is to provide equitable access to care and reduce harm from HIV, Hepatitis C, and drug use. Dining Out for Life is a fantastic way to give back and help support those in our community in need of WNCAP's amazing, life-saving services. We are proud to sponsor this wonderful event and hope you can join us for Dining Out for Life on April 28th! 
---
Past Events at Prestige Subaru
Asheville Humane Society
February 2020
---
This past week, our amazing friends at Prestige Subaru presented a $75,851 check to local animals in need!!! Once again, Asheville Humane Society was incredibly honored to be chosen as the Hometown Charity during Subaru of America's Share the Love event! Subaru of America donated $250 for every new Subaru sold or leased to the customer's choice of four national charities or the Hometown Charity, and Prestige Subaru matched each donation at $150. We are so grateful that so many community members chose to 'Share the Love' with our animals! Thank you, friends!!!
In total, Prestige has donated over $100,000 to Asheville Humane Society this past year, which means one in five animals found their loving homes thanks to Prestige Subaru's generosity and support. To show our appreciation, we dedicated our new "Red Carpet Adoption Step & Repeat," featuring Prestige Subaru's logo, during the check presentation. Every adopter can now take their first family photo with their new pet in style! We hope this small tribute will be a constant reminder of Prestige Subaru's continued compassion toward homeless animals in our community.
(And we personally love supporting Subaru too... as you can see from our own parking lot! It's starting to look a lot like Subieville!)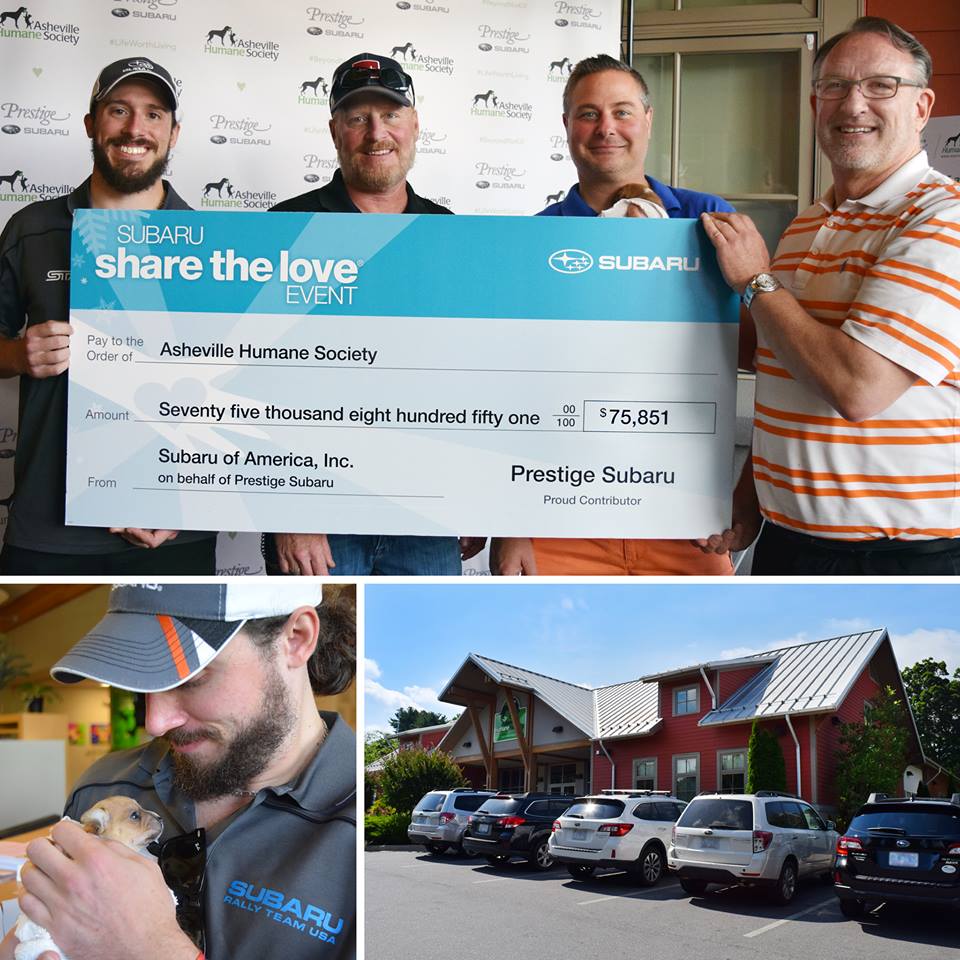 Mission Heath SECU Cancer Center
March 2020
---
We had a wonderful Wednesday morning delivering blankets to the patients at the Mission Heath SECU Cancer Center as part of the Subaru Love Promise. Thank you Mission Health and LLS for all the wonderful work you do!