The 2022 Subaru Love Promise Community Commitment Award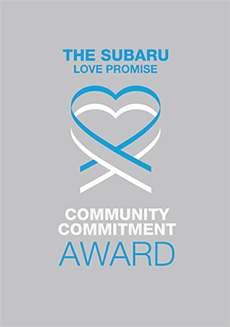 We've been nationally recognized for our dedication to our community and the Subaru Love Promise.
We're honored to receive the 2022 Subaru Love Promise Community Commitment Award. This award nationally recognizes Subaru retailers who are making the world a better place while demonstrating an outstanding commitment to supporting passions and causes in local communities. These efforts are focused in important areas such as the environment, community, health, education, and pets.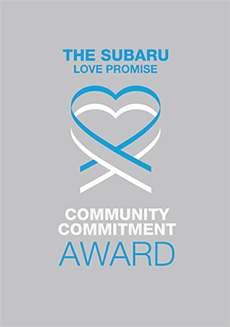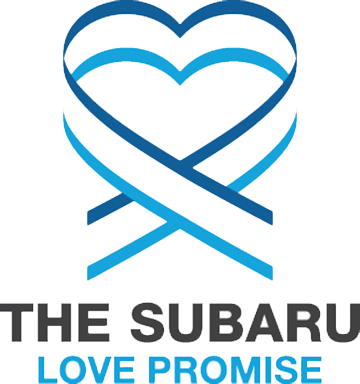 What is the Subaru Love Promise?
Subaru and our retailers believe in making the world a better place and the Subaru Love Promise is our vision of respecting all people. This is our commitment to show love and respect to our customers and to work to make a positive impact in the world.
How is Prestige Subaru dedicated locally to the Love Promise?
Our Love Promise can be seen in various partnerships with local charities and non-profits. We're grateful for the opportunity, not only to be a part of our community, but to serve it as well.
Asheville Humane Society, Warrior Canine Connection
Riverlink, Friends of the Smokies, Mountain True
Irene Wortham Center, Haw Creek Elementary, Experience Music, Asheville Area Piano Forum
BeLoved Asheville, Homeward Bound of WNC, Salvation Army, Western Carolina Rescue Ministries
All Souls Counseling, Leukemia and Lymphoma Society
Love Promise Stories from Prestige Subaru
Subaru and Prestige Subaru believe in making a positive impact on the communities in which we live and work. We uphold that belief through our Love Promise Community Commitment. Every month, we select inspiring stories from customers and partners from around our area who strive to support our collective commitment and feature them here
Sharing the Love of Subaru Family - Sean F
One of our customers, Brenda R, lives in Marshall, NC, far away from town. She has been a Prestige customer since 2015, having bought three Subaru Foresters in that time. Brenda does not drive a lot and since her husband passed away, she really has no one close to her. They were never blessed with children and she finds herself alone. Gus introduced me to Brenda and we ordered her a new Forester Sport a month back. When it arrived early, I had our finance manager Adam S. call her for the finance call as she was buying cash and we were going to deliver her new Forester to her out in Marshall. I spoke with Adam after his call with her and he was so moved about her circumstances that it got me thinking... So when I was out and about I stopped at the dollar store and bought a couple dozen Christmas cards with the thought that I would have all my co-workers fill one out to her. This way Brenda would have many Christmas cards this year and know that her Prestige family was thinking of her this holiday season. When I brought the Forester out to Brenda, we went over to the car and signed the paperwork. As we finished signing, I handed her the envelope of Christmas cards from the associates in Subieville, she didn't understand why there were so many, and I explained; she understood and was moved. I left Brenda letting her know that I and her Subaru family were always available to assist her with anything she may need.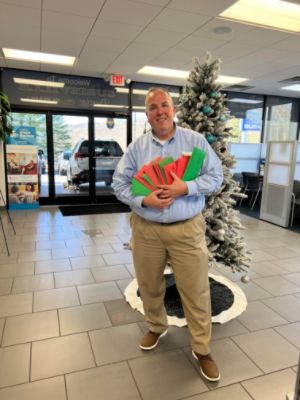 ---
Prestige Subaru Supports Social Emotional Learning Program at IWC's Early Learning Center - Brantlee E
Irene Wortham Center's Early Learning Center recently benefited from Prestige Subaru's Drive for a Difference campaign. Thanks to their generosity, we were able to add adaptive supplies to our Social Emotional Learning program. The Early Learning Center (ELC) is a 5-star rated licensed facility offering low teacher to child ratios for individualized education and therapy programs to up to 100 children ages six weeks to five years. The ELC enrolls students with developmental delays and atypical learning needs as well as individuals requiring financial support. In addition to education, ELC provides contracted onsite physical, occupational, and speech therapy, as well as healthy meals and snacks, five days a week, year-round. Materials used in the Social Emotional Learning program help support more children with significant behavioral needs and/or developmental disabilities. Sensory items, like tactile immersion tools, help with calming when a child presents with undesired behaviors. Sensory items, like proprioceptive and vestibular tools, help children participate successfully in the classroom. These adaptive materials provide sensory learning that can help re-center children, provide materials to work out frustrations and to be utilized within the classroom as an option for independent choice as children learn coping skills to be more successful. For 60 years and counting, Irene Wortham Center's Early Learning Center has helped children with developmental and/or socioeconomic challenges lead healthy, happy and independent lives. We believe in the value and promise of every person and strive to empower individuals to reach their full potential from birth to end of life. We are grateful to Prestige Subaru's outstanding support to our community and to our organization and look forward to the future, working together, to make our community a better place.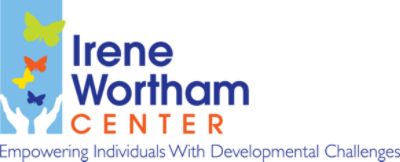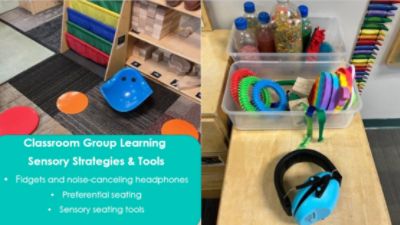 ---
SUBARU SUPPORTS HERO DOGS FOR WOUNDED VETERANS - Jennifer W
Everyone knows that Subaru loves the Underdogs. But they also love those very special Hero Dogs who provide unique support and service to our nation's Veterans who have been wounded in the line of duty. In October 2022, Prestige Subaru of Asheville, North Carolina, named Warrior Canine Connection (WCC) as their Drive for a Difference beneficiary. Their generous support is making partnerships, like Ryan and his Hero Dog Tommy, paw-sible. When Ryan Boyles was first paired with Warrior Canine Connection service dog Tommy and saw that they shared the same birthdate—April 30—he says he felt like their new partnership was fate. "I felt like it was meant to be, and then they brought him in, and I fell in love with him immediately," said Ryan. The duo graduated as part of WCC's class of 2019, and since that time, the two have been inseparable. "Tommy has given me my freedom back to go and do stuff outside of my home and with my family," said Ryan. "I really struggle with crowds and feeling trapped, and Tommy really helps me out with that. Thanks to him, I've been able to travel with my wife and boys and I feel more comfortable in many different situations. I used to not be a pleasant person to be around. He helps to calm me and bring balance to my life. My wife has told me she noticed an immediate difference in my temperament once I got Tommy." Ryan enlisted in the Air Force in 2006 out of a passion to serve and tradition: both of his grandfathers served in World War II, his uncle was also in the service, and Ryan says he felt a strong pull to serve as a result of 9/11. Ryan served in the Air Force for nine years working in multiple roles, including support of combat search and rescue and contingency response missions, before being honorably discharged as a Staff Sergeant (E5) in 2015. During his service, he completed multiple deployments, including stations in Djibouti and Uganda, Africa. It was during those missions when Ryan was serving as a paying agent that he was put into situations that forever changed him. As a result of his service, Ryan sustained various knee, hip and back injuries, and he also suffers from post-traumatic stress disorder (PTSD), anxiety and depression. "I used to have really bad nightmares to the point where I would wake up yelling, screaming and punching," said Ryan. "As soon as I got Tommy—literally the day I got him—my nightmares subsided. I rarely ever get them now. He doesn't have to be in our bed. His presence in our room next to our bed just helps me sleep." Tommy hasn't just helped with Ryan's peace of mind, he's brought so much joy to his family, especially his young sons, Lincoln and Greyson. "When the vest comes off, Tommy's their best bud; the boys enjoy playing with his toys and taking him for walks. It took a little while for them to understand he was my service animal. They understand it and respect it, but they definitely enjoy their playtime with him." Perhaps most importantly, Tommy has also instilled Ryan's hope for the future; he is able to continue traveling with his family and feeling the sense of freedom that Tommy affords him. He's also looking forward to many more joint birthday celebrations with Tommy. "Man's best friend is an understatement," said Tommy's Veteran. "These animals are absolutely incredible. Tommy literally has to do nothing but lay next to me and I have fewer nightmares, a better temperament, and am less exhausted." In 2021, Tommy was named a semi-finalist for the 2021 American Hero Dog Award presented by American Humane. Thank you to our friends at Prestige Subaru of Asheville, NC, who provide critical resources for Warrior Canine Connection to help Veterans, like Ryan, and so many others!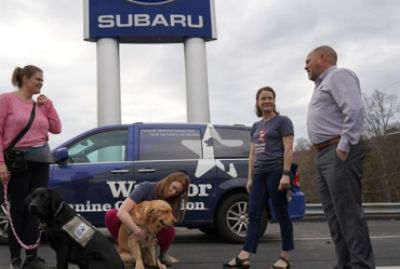 ---
Prestige Subaru Helps an Underdog Find Her New Mom - River E
Carrie is a medium-sized senior girl who was adopted through the Subaru Loves Pets partnership between Asheville Humane Society and Prestige Subaru. Carrie sat at the shelter for more than five months waiting for her new family. Early in October, Debra came into the shelter and met Carrie for the first time. Debra fell in love with Carrie almost immediately, but Carrie had to stay in the shelter while she recovered from an upper respiratory infection. While waiting for Carrie to be ready, Debra called the shelter many times to check on her. Debra said that she looked at Carrie's picture every day waiting for the day she could pick up her new family member. Debra was able to adopt Carrie for no fee as a result of the Subaru adoption promotion. Anthony Pele and Prestige Subaru helped Carrie and over 240 other animals get adopted during the month of October. This is largely due to the publicity and marketing that Anthony and Prestige did for all of our animals. They helped spread the word to our community who showed up and adopted their new loving pets. Carrie and Debra's adoption picture was taken in front of the Outback that Anthony brought over to station in front of our adoption center so that everyone would know where to go for fee-waived adoptions. Now this sweet, overlooked, senior girl gets to spend her days napping in her own rocking chair on the porch instead of waiting for a new life.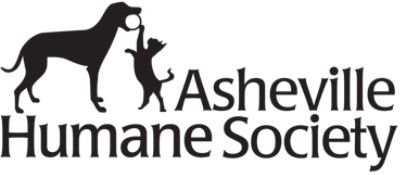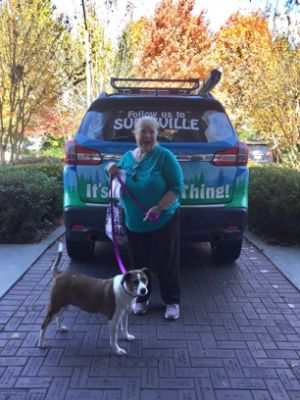 ---
Prestige Subaru Loves to Care - Frank L
2022 will mark the seventh year that Subaru has partnered with The Leukemia & Lymphoma Society (LLS) to bring love and hope to brave Leukemia patients in the form of warm blankets and hand-written notes of encouragement. Prestige Subaru in Asheville, NC, is proud to be a part of this effort, in recent years partnering with Mission SECU Cancer Center in Asheville NC. By the end of the year, Subaru and retailers across the nation will have delivered more than 230,000 blankets, 31,000 arts and crafts kits, and thousands of messages of hope written by retailers and customers to these patients carrying on their brave fight. Every three minutes in the U.S., a new patient joins those diagnosed with leukemia, lymphoma, or myeloma. We hope these blankets and messages will spread warmth, love, and hope where they're needed most and will let these strong people and their families know we care.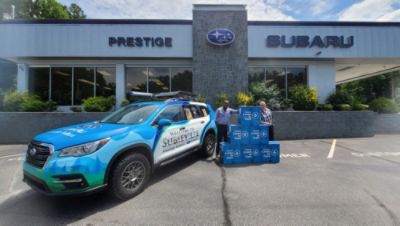 ---
Prestige Subaru Adopts 10 local classrooms -- Subaru Loves Learning - Chris L
Prestige Subaru, as part of the Subaru Loves Learning initiative, adopted 10 classrooms this year at nearby Haw Creek Elementary in East Asheville, supporting teachers and students with frequently used classroom supplies. In many cases, teachers purchase classroom supplies with their own money to provide their students with the tools they need throughout the year. With that reality considered, Prestige provided flex-funding and 10 classroom supply kits this year to 10 local classrooms, supporting teachers and ensuring students have the resources they need to succeed!
---
Blue Ridge Orchestra Thrives with Prestige Subaru's Support - Priscilla A
Established in 2005, the Blue Ridge Orchestra is Asheville's homegrown, volunteer orchestra, dedicated to providing opportunities for WNC's extraordinary music community to perform, listen to, and learn about great symphonic music. As financial partners since 2015, Prestige Subaru of Asheville has remained faithful to BRO's mission throughout the course of COVID-19's greatest impact. When live performances stalled, Subaru still saw purpose in our vision. Subaru has served as an anchor as we strive to keep live symphonic music affordable and accessible. Businesses like Subaru have enabled us to keep ticket prices low, our Music Director on the podium, and sustain the sound of music throughout the music hall year after year. We are proud, thankful, and humbled by Subaru's generosity. As we grow our organization now, stronger than ever before, we plan to pay forward the 'Promise' to give our talents just like Subaru has given of their resources. Subaru's words, hearts, and business model reach far beyond the dealer lot. (Photo Credit: Kathy Kmonicek)
---
Prestige Subaru Gives Second Chance to Local Pets in Need - Laila J
Asheville Humane Society is incredibly honored to be a partner with Prestige Subaru. We received a wonderfully generous gift this spring and it has changed the lives of many local pets in need. Your gift gives pets a second change and create the lives they deserve. Prestige Subaru provides animals that come through our doors care, safety, critical medical treatment, behavior assistance, daily enrichment, and more. One dog that comes to mind is Rascal. Rascal was in the shelter system for 377 days and was recently adopted. Rascal is wicked smart and had learned over 30 commands, but he was looking for a particular type of family. He was placed within our behavior treatment program for reactivity and to learn good, consistent manners. Our medical team worked with him and he received several medications in our care. Rascal also participated in our Hiking Hounds program where he hiked with volunteers a couple days a week to learn how to be handled by different people and to get some energy about. This program is vital to give dogs that need it an extra energy outlet and exposure to people, as well as different environments. Rascal was also fostered several times to give him a break from the shelter and give him some time living in a home environment. Rascal benefitted from several different programs at Asheville Humane Society to get him in the right home with a family that is prepared for his quirks. Prestige Subaru makes all of these programs possible in our community. They give dogs like Rascal (and 22 other species that we adopted out in 2021) the opportunity to get healthy and find their ideal home. We are so thankful for you.
---
Bad vs. Good - Anthony P
This is a story, of taking something bad that happened, and making it, into something good. Jessica Cochran in an act of kindness for her son Sawyer, beginning his college career at Appalachian State, purchased a new 2022 WRX GT in Ice Silver. Unfortunately, within the first week, he experienced a flat tire. After getting it back to Prestige Subaru to have the tire replaced, it was discovered that it would have to be ordered. We put them into one of our SSLP vehicles as this happened over a weekend. As if this wasn't unfortunate enough, it was about to get much worse. While under Prestige's care, early on Sunday morning, two thieves, stole Sawyer's prized WRX GT! When the team at Prestige discovered what had happened, they went into action. Led by General Sales Manager Heath McPherson, Prestige reached out to the local police department who came out to investigate. They didn't hold much hope for the vehicle being recovered, except that The Cochran's wisely had selected Starlink to protect their investment. Within 1 hour, Starlink, was able to track the WRX and it was safely returned to the store! This is a testament to the value of the Starlink system! Now, after inspection of the vehicle and the reality it was going to carry with it a theft recovery history, Prestige did what only a Subaru retailer would…. We bought back the vehicle at the full value that the Cochran's paid, located another hard to find WRX GT from a retailer partner in Sawyers #1 color, that gorgeous WR Blue Pearl! Sawyer knew what had happened to the stolen car and he was devastated. The thought of not having a car for school and potentially having to wait, was upsetting. This is where the good comes in. His mom told Sawyer that they needed to go back to Prestige to fill out some paperwork on the previously stolen vehicle, as you can imagine he was less than enthusiastic about this visit. When they arrived, Heath McPherson, ask them to come out to the delivery pad. Once there, Heath told Sawyer, that he and the Team at Prestige knew that we had disappointed him through this ordeal, but that perhaps this would help him and his mom rekindle that excitement and passion he had for Subaru, Prestige and WRX. Well, he was dumbfounded, not only was he getting his prized WRX back, he was getting it in his preferred color choice! The smile on his and his mother's faces were priceless as he gazed at his bow covered Subaru. This is a testament to Subaru's H.E.A.R.T pillars, and a Love Promise moment to remember! Happy motoring Sawyer! Welcome to Subieville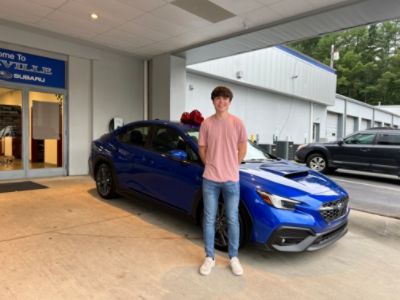 ---
RiverRATS - "River Recreation and Appreciation through Science" -Supporting Environmental Education - Justin Y
For multiple years now, Prestige Subaru has supported RiverLink's RiverRATS education program. This program provides free environmental education activities to schools and families throughout the French Broad River Watershed. Up in the mountains of Western North Carolina we're lucky to have so many beautiful natural resources, but ensuring they stay that way takes a whole community that is committed to protecting our mountains and rivers. RiverLink believes that education is key to inspiring this commitment to the environment, and youth are the key to sustaining it. Each year the RiverRATS program engages 3,000 students with their local streams and rivers. Students get to take on the role of an environmental scientist and discover the various physical, biological, and chemical aspects of our river ecosystems. They might search for bugs in the stream, test for water quality, interact with scientific models, play games about the water cycle or storm water, and much more. By the end of their time with us they will have gained a greater comfort and confidence in the outdoors and a better understanding of their role in protecting it. This past year we had so many heartwarming and inspiring moments with kids. One of our favorites was a student who originally refused to get in the water because they were scared of what might live there. After a while of seeing their classmates splashing around and finding cool critters they finally decided to grab a net and start searching for themselves. A RiverLink educator guided them towards the best spots to find crayfish, salamanders, etc. and once they caught something they were hooked. They were still not ready to hold any of the stream critters, but they were ready to keep exploring the stream for hours. "Moments like this are why we do what we do" said Justin Young, Education & Outreach Manager at RiverLink "So many kids just never have the opportunity to experience the environment like this and we love to see their confidence and curiosity emerge". Prestige Subaru's support of this program has allowed all of these activities to remain free of charge for everyone. RiverLink believes that everyone, regardless of background or identity, deserves the chance to feel connected with their environment and we deeply appreciate Subaru's support of this vision.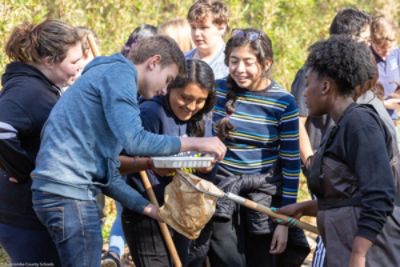 ---