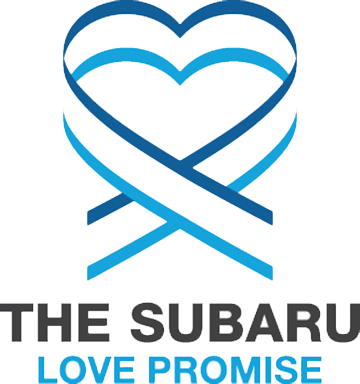 What is the Subaru Love Promise?
Subaru and our retailers believe in making the world a better place and the Subaru Love Promise is our vision of respecting all people. This is our commitment to show love and respect to our customers and to work to make a positive impact in the world.
How is Prestige Subaru dedicated locally to the Love Promise?
Our Love Promise can be seen in various partnerships with local charities and non-profits. We're grateful for the opportunity, not only to be a part of our community, but to serve it as well.
Leukemia and Lymphoma Society, Salvation Army
Love Promise Stories from Prestige Subaru
Subaru and Prestige Subaru believe in making a positive impact on the communities in which we live and work. We uphold that belief through our Love Promise Community Commitment. Every month, we select inspiring stories from customers and partners from around our area who strive to support our collective commitment and feature them here
Warrior Canine Connection - J W
In 2018, nonprofit Warrior Canine Connection (WCC) first opened its location in Asheville to serve wounded Veterans in the local community. Accredited by Assistance Dogs International (ADI), WCC offers two key programs to support wounded Veterans—providing a unique form of Animal Assisted Therapy (called Mission Based Trauma Recovery or MBTR program) and placing highly-skilled Service Dogs with Veterans. Because of its program design, each WCC dog can provide healing for up to 60 Warriors before that dog is placed with his or her permanent Veteran partner. With the support of great local friends, like Prestige Subaru, WCC has been able to help the recovery and rehabilitation of nearly 300 wounded Veterans in the Asheville area. Nick is one such local person. A Marine Corps Veteran who joined the service at 17, Nick has participated in hundreds of hours of MBTR programming with WCC and helped to train dogs that have subsequently been placed with fellow North Carolina Veterans. "It's one of the best therapeutic methods I've ever encountered, and I've tried a lot of different things," said Nick. "I've tried horticulture, sitting with therapists and psychiatrists, which I still do, but I really prefer going to see the dogs." Read more about Nick and other North Carolina Veterans helped by WCC. Thank you to our friends at Prestige Subaru who are making it PAW-sible for Warrior Canine Connection to help Veterans, like Nick, and so many others!
---
Prestige Subaru Saves Countless Lives in Asheville - River E
Prestige Subaru is known by many Asheville, NC locals as an organization that is willing to go above and beyond to help their community. Most recently, they hosted a Make a Dog's day event at their location that directly resulted in one dog's life changing forever. Asheville Humane Society employees took a few lucky dogs over to Prestige for the day so that they could interact with the staff and costumers and spread some love to all. As soon as Prestige employee Jeffrey looked into the eyes of Bock the shepherd mix puppy, he was in love. Jeffrey was busy doing several things but kept looking over at Bock and knew he had to meet him. As soon as he was able, he came over to meet the puppy and couldn't get enough. He knew they were meant to be together. He told the AHS staff that he was in love but that he didn't think his girlfriend would say yes to adopting. Jeffrey sent his girlfriend, Kassondra a picture of Bock and got a surprising answer. She asked if he was serious and than immediately said yes. Not only that but she left work to come and meet him. She came over and was so in love when she met Bock that she started to cry. She held him and hugged him and told him that he was coming home with them forever. After spending about an hour at the shop with Jeffrey and Bock, Kassondra went over to AHS to sign the new adoption paperwork. After finalizing the adoption, they went out and got all the things a new puppy needs. Bock's adoption fee, and the adoption fees of the rest of the litter he came into the shelter with, were sponsored by Subaru! 2021 saw an increase in the numbers of puppies surrendered to the shelter because of a lack of spay/neuter services in 2020. Shelter workers love puppies but it is also stressful making sure they get into the proper home. Adopters like Jeffrey and Kassondra fill our hearts with joy for the future of the animals. This adoption was a direct result of the tireless work Subaru does for local communities.
---
Ending Homelessness in Our Community - Madeline W
Homeward Bound of WNC prevents and ends homelessness in our community with permanent housing and support. Through using the Housing First model, a national best practice, we are committed to moving people into housing as a first step, then providing supportive services to help stabilize their lives so they can stay in housing and improve their quality of life. We are so grateful to Prestige Subaru for choosing Homeward Bound as a beneficiary of the annual Share the Love Event. It costs approximately $13,000 to house one client and provide case management support for one year. Thanks to Prestige Subaru's gift of nearly $33,000, Homeward Bound will be able to house and support three people experiencing homelessness. People like Tara, who began camping in the woods after escaping a violent relationship. Tara felt triggered by the chaos at shelters where she stayed, so she made the choice to camp outdoors, where she felt she had more control over her environment. Tara found housing on her own, but was having difficulties and at risk of becoming homeless again. After connecting with a Homeward Bound case manager, Tara has been stably housed for over a year now. Living in the safety and security of a home enabled Tara to begin counseling and she is currently taking medication to ease symptoms of PTSD and the effects of long-term trauma. She has applied for disability and is following through with appointments. While she was experiencing homelessness, Tara began "doodling" to help cope with her anxiety. Now that she has a home, Tara has begun painting and displaying her art work for guests. She is shown here holding one of her paintings. Tara said, "I am just now beginning to get out into the world again and remember that I am a valuable, worthy human being." Tara wants people to understand that people are homeless because something happened to them, and they need help to get out of that situation. She said, "I just want to thank Homeward Bound for supporting me and believing in me, and giving me a platform to start over. It's unprecedented and I'm forever grateful." Homeward Bound believes that homelessness is a solvable issue, and the key to keeping people in housing is compassionate and nonjudgmental staff who embrace treating people with dignity and respect. THANK YOU to Prestige Subaru for helping us end homelessness in our community!
---
Feeding The Community's Pets - Adam C
The COVID epidemic was hard on us all. In Asheville, NC, one sign of this struggle came in the form of more requests for pet food at our 21 local human food pantries, which are supplied by Asheville Humane Society through our pet food assistance program. Our community is fortunate to have dedicated citizens willing to donate bags of food on a consistent basis, allowing our Community Solutions department to meet the needs of struggling families. After nearly a year of this program being stretched thin, Asheville Humane Society was in dire need of pet food to keep our programming going and supply our partnering human food pantries with pet food to distribute to people in their neighborhoods. Seeing our community's need, our long-time and dedicated supporters, Prestige Subaru, were quick to act! Because of their support, providing 2,400 lbs. of dog and 1,200 lbs.of cat food, pets in Buncombe County, NC went to bed with full bellies and families of Western North Carolina were able to focus their energy on making it through these difficult times! Thank you to our friends at Pretige Subaru for their many years of support!
---
A new Chance for Chance - Suzi I
I am the NC community lead for a mutual-aid organization, Pandemic of Love. The organization was started on March 14, 2020, by a woman in So Florida in response to businesses & schools shutting down because of Covid. She thought she might be able to help her neighbors by connecting those in need with those who have enough. Little did she know within weeks there would be Pandemic of Love communities set up around the world. (Now there are hundreds of teams in communities, more than 1000 volunteers) The Asheville chapter was started on March 28. In August a homeless young man registered for assistance. He had been a college student studying on scholarships when Covid hit. He suddenly found himself homeless when his dorm closed, with no family support. He drifted for a while ended up in Asheville and someone he met told him about our organization. When I read his registration, my heart broke. Soon we matched him for assistance to get food, he found a home, and a job. In early December his very old car began to have issues, he reached out to me on a day when he was stranded. We tried getting his car fixed and it just wasn't worth it. I had some donors who were willing to assist Chance in getting a better car to drive. So we began search online and locally for a used car. Everything we found was, well just terrible. After the CNN Heroes event aired-and Subaru was a major sponsor....I began to wonder if our local Subaru dealer might be able to help. So the week of Christmas I called and was connected to Anthony then Heath in used car sales. I explained to him who I was and what we were looking for. He said give him a few days. On Chris Eve Heath called and said he had a car and could offer it to us at half the cost. That the dealership would pay half of the $5000 if we could aggregate donors for the remainder. I already had that! So we set up a surprise for Chance. A few days after Christmas I told him we were meeting a guy with a car that might work. I picked him up and he thought were going to a local auto shop to meet "the guy". Instead I pulled into Prestige Subaru and told Chance I had to pick something up. I ran into the showroom to be sure everyone was ready. I went back to my car to ask Chance to come in with me, because it would take a while. When we walked in HIS new car was sitting in the showroom with a huge bow on it. I said, Chance they told me, THIS is your car!". There were tears and a lot of disbelief. This young man needed a second chance, someone to reach out a hand. With the help of Prestige and Subaru, and 7 donors, we were able to do that. Each donor who gave funds, knew what they were assisting with, and wanted to remain anonymous. Chance is able to get to work safely, and will soon start taking college classes again. We truly appreciate Subaru and the entire staff at Subaru. Who not only were willing to help this young man, but make it a very special moment for him.
---
Pablo's Story - Claire C
2020 was an exceptionally difficult year for kids and families facing critical illnesses. On top of their medical challenges, the year brought added fear, isolation and new health concerns. Through this year's Subaru Share the Love Event, Prestige made hope possible for local children like Pablo when they needed it most. For six-year-old Pablo and his family, this past year brought devastating news: "Tu hijo tiene cancer. Your son has cancer." Pablo's diagnosis made him extremely sick, drained his energy, and caused him to lose hope. However, Pablo finds joy in fishing. At an early age, his dad taught him to fish, and being outdoors is something that Pablo and his entire family enjoys. For his wish, he wanted to go on a fishing trip with his family! During their wish trip, Pablo and his family safely stayed in a private mountain home in North Carolina and left their worries to roast s'mores, swim, fish, and enjoy nature. Pablo and his dad went catch-and-release fishing every day! While Pablo's cancer journey is far from over, his wish made an impact. With gratitude, his mom shared: "His wish lifted his spirits when he needed it most, and I know it has played an important role in his recovery... You made my little boy smile and for a little while, I think we all forgot he had cancer." Every wish granted has the power to transform not only the child's life, but the lives of their family members, community and the supporters who make that wish possible. We saw that more than ever in 2020. Thank you to everyone who supported the Subaru Share the Love campaign and brought joy to families like Pablo's.
---