In efforts to better serve our customers we have expanded and beginning tomorrow, Wed. August 21st, 2019 we will be moving the Express Service Entrance to the other side of the building.
Attached is a photo showing the new path. Entrance C with the yellow arrows is where you will now come for your Express Service work. Below is a short video also showing the path to the new service entrance.
https://photos.app.goo.gl/31GX6d4YAax7kf6u5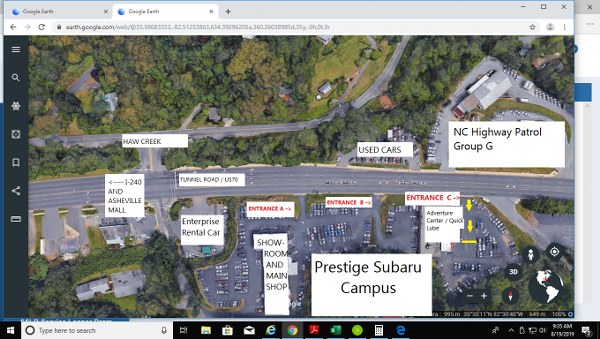 __________________________________________________________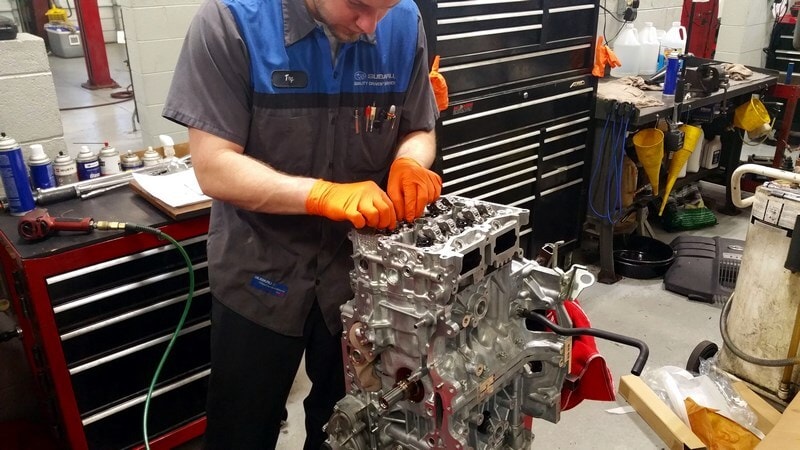 The Prestige Service Department has been called the best by numerous customers and the numbers speak for themselves. Prestige has:
The largest Subaru service staff in the area

The most Subaru service experience in the area

The most cumulative hours of Subaru service training in the area

The most cumulative hours of Subaru technician training in the area

The most Subaru technicians at one dealership in the area

The largest loyal Subaru customer base in the area

The largest Subaru parts inventory in the area
The Service Department at Prestige is a powerhouse. With 14 technicians covering everything from oil changes to highly technical electrical work, Prestige has got you covered!
Our Service Department performs more labor hours of maintenance and repairs in a week than some of our competitors perform in a month and our staff are no new-comers to the Subaru game. With an average of nearly 10 years experience in the Service Department at Prestige, we have the experience, the resources, and the staff to keep Asheville's Subaru population rolling for years to come!
________________________________________


Attention Prestige Subaru Service Customers,  
You asked, and we listened!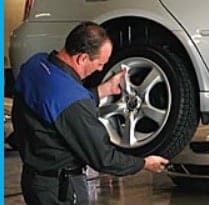 Starting November 1, 2015 Prestige Subaru will offer free tire rotations for life on tires purchased at our dealership through our parts & service departments.  We hope that this makes our customers' lives easier in that you can now use our facility as a truly one-stop-shop for all your car's  needs!
We have a large inventory of tires in stock and access to 20+ different manufacturers, including Winter/Snow tires (special order)!
To receive a quote on tires for your new Subaru, call us at (828) 298-9600


_____________________________________

For Quality Auto Service & Subaru Car Repair in Asheville, NC, Visit Prestige Subaru Service Center
We have friendly and knowledgeable staff to assist. Our Service & Technician staff has over 300 years combined experience to accurately diagnose & correct your symptoms.
Meet your Service Team: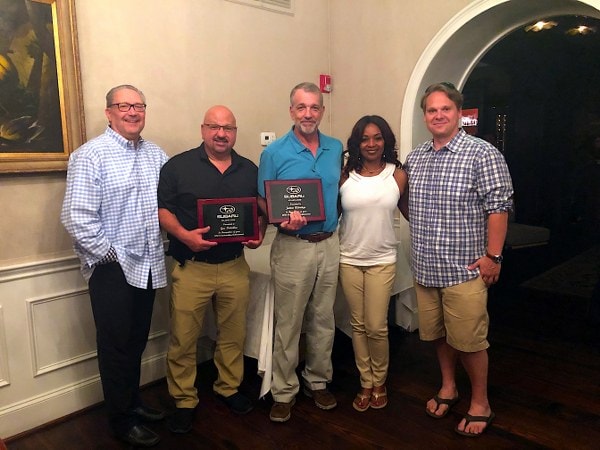 WE ARE PROUD TO CONGRATULATE JIM ALDRIDGE & GUS DOTSIKAS. THIS IS THE SUBARU STARS 2018 AWARD PRESENTATION WHICH WAS HELD IN CHARLESTON S.C. MAY 20-22 2019.
THIS AWARD IS PRESENTED FOR OUTSTANDING CUSTOMER SERVICE FOR WHEN CUSTOMERS BRING THEIR CAR IN FOR SERVICE. CUSTOMER SURVEYS ARE WHAT DRIVES THIS PROGRAM. ONLY THE TOP 10 SERVICE ADVISORS IN THE SOUTHEAST REGION WIN THIS AWARD.
GUS DOTSIKAS (2nd left to right) WON FOR THE 3RD YEAR IN A ROW WHILE JIM ALDRIDGE (3rd left to right) WON HIS FIRST AWARD. TWO SERVICE ADVISORS IN THE TOP 10 ARE FROM PRESTIGE SUBARU IN ASHEVILLE NC.
______________________________________________________________________________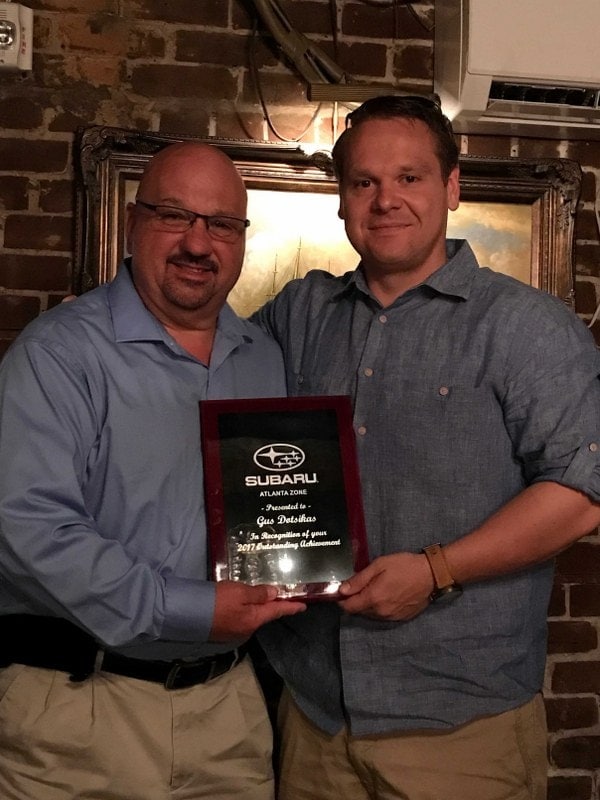 Congratulations to Gus Dotsikas(Left), Service Advisor. in recognition for his Outstanding Achievement in 2017. Gus was in the top 10 Atlanta Zone Service Advisors Stars for 2017 and was awarded this award in Savannah Georgia. Gus has received this award for two consecutive years. This award is based on customer satisfaction.
He was the only recipient from North Carolina to win the award. Gus would like to thank all of his customers and future customers and let them know that Prestige Subaru is always there for their automotive needs.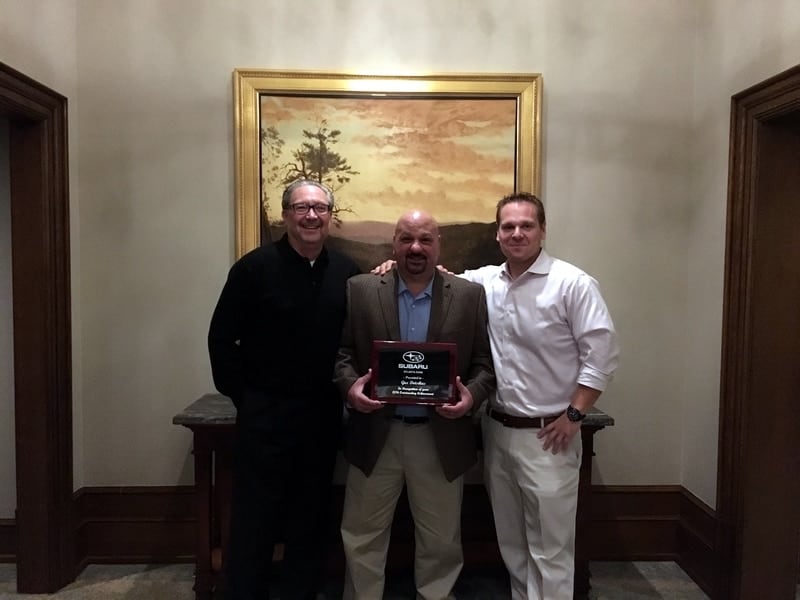 Congratulations to Gus Dotsikas (Center), Service Advisor, in recognition for his Outstanding Achievement in 2016.  Gus was not only in the top 10, he was #1 in the entire Atlanta Zone for customer service.  Well done Gus!  We are lucky to have you as a part of our team.



Jerry Hagan - Service Manager - x1318




Tearesa Cartrett - Assistant Service Manager- x1344 
 
 
  

Jack Kisner - Fixed Operations Director - x1314




 Ike Kearney - Porter

 
 
  
  
 


 
  Gillian Murray - Service Advisor - x1350  
 
            Rebekah Mann - Service Advisor x1320
                        






 
Scott Christie - Service Coordinator x1343  




 
 

Kelly Hensley - Service Appointment Coordinator x1360 




 

Mary Macera - Service Appointment Coordinator x1343

 



 

 

              Jonathan Forfa - Service Advisor x1321



  


 Jenny Webb - Service Appointment Coordinator x1319

  
 
                 Eron Skelton - Service Advisor x1345


 
For top notch car repair in Asheville, there are many reasons to choose

Prestige Subaru

. We can help to prevent break-downs through oil changes and factory scheduled maintenance. Our service technicians are professionally trained and will repair your Subaru vehicle correctly the first time.
Make sure your vehicle can keep up with your busy schedule by scheduling an appointment for car repairs in Asheville, NC, at Prestige
Subaru
. Whether you have a
used
car or
new Subaru
, we're your one stop service and repair shop!
p>Our Subaru service facilities are second to none, which is why customers from all over North Carolina including Woodfin, NC,
Spruce Pine, NC
and Candler, NC come to Prestige Subaru to service their vehicles.  For high quality car repairs in Asheville, Prestige Subaru is your destination. Make a convenient
online service appointment
or give us a call. We look forward to helping your car run like new for years to come! Give us a call today at
(888) 485-0247.