Maintaining the Performance of your Subaru
Preventable Maintenance Pays Off
Left Foot Braking and Subaru's Brake Override System
Left Foot Braking and Subaru's Brake Override System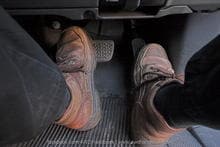 All newer Subaru vehicles are equipped with Brake Override System or B.O.S. This is a safety system is designed to prevent unintended acceleration and loss of control of the vehicle. Subaru implemented this system so that in the event that something occurs which jams the accelerator pedal (incorrect floormat, trash on the floor, etc.) that simply applying the brake pedal will stop the acceleration of the vehicle and allow the driver to maintain control. This has been an important safety innovation, which has now been adopted by most other automakers.
Your Subaru constantly monitors a myriad of sensors and switches and knows when you press any pedal; brake, accelerator, or clutch. If the vehicle sees that you have pressed the brake and the accelerator at the same time the B.O.S. system activates and engine power is greatly reduced to idle speed as a safety precaution.
Some customers that drive using their left foot to depress the brake pedal will notice an uncomfortable sensation when approaching near-stop intersections or turns. They will perceive that the vehicle is about to stall, when in fact, it is simply the B.O.S. doing its job.

Since driving is such an integral part of our lives many drivers don't even realize that they in fact use their left foot for braking actions.

Some common instances where the Brake Override System may engage and reduce engine RPM's to idle:
- Driver is approaching a tight turn, such as a side street or driveway. The customer brakes to reduce speed for the turn (using their left foot) and then attempts to accelerate as they enter the turn before their left foot has been removed from the brake pedal. The vehicle detects inputs from the throttle and the brake, and brings the engine down to idle speed.
- Driver is approaching a traffic signal and slowing for a stop, but then the signal changes as they are still braking. The driver applies throttle to drive through the intersection prior to removing their left foot from the brake pedal completely. Once again, B.O.S. engages and brings engine down to idle speed.
- Driver is stopped on a steep hill, using their left foot to hold the brake pedal. They use their right foot on the accelerator to attempt to move the vehicle up the hill, but when the Brake Override System detects brake and throttle input at the same time engine speed is reduced and if the driver has reduced braking force, but not totally removed their left foot from the brake, the vehicle could even move slightly down the incline.
If a driver experiences what they perceive as a near-stall condition in a situation similar to the ones listed above, they should pay very close attention to their driving habits, as the majority of these situations are traced to B.O.S. application rather than a vehicle malfunction.
Bulletin Customer Information
Droid Phone bluetooth texting no longer working?
Recently I decided to upgrade my 4 year old Motorola Razr Maxx.
I chose the new Motorola Droid Turbo.
Once I received the phone, I performed all the normal routines (backing up contacts and pictures, activating the new phone, etc.)
  However, o
nce I connected my new Droid to my 2015 Outback via Bluetooth I noticed an immediate problem.  The hands-free phone calls worked as normal, but the hands-free texting stopped working.
After several hours of exploring settings within the phone and within the car's audio unit I was at a loss for explanations.
I called my carrier, who as I expected told me that they could not help, and that I should contact Motorola.
Expecting a quick resolution I used my lunch hour to call their customer service number.
After a brief explanation of the problem they were quick to direct me to call my car's manufacturer.
Once I explained my "antique" phone worked flawlessly with this car and that I indeed worked for a Subaru dealer they decided to blame my carrier and instructed me to contact the carrier for a new replacement phone.
I made another call to my carrier and managed to get a very bright lady on the phone.
While speaking with me she was doing research and she uncovered multiple reports of the same problem with many different cars.
Once she and I investigated deeper she uncovered something that Motorola decided to keep from me.
Apparently on the Droid operating system later than version 4.3 KitKat, the phones will no longer communicate with manufacturer audio units for alerts or text messaging.
Sadly there is nothing that can be done to correct this problem by either a carrier or auto dealership
(until Motorola hopefully acknowledges this shortcoming in this software revision and fixes it.)
Jerry Hagan
Service Manager
Hours
Monday

08:30am - 07:00pm

Tuesday

08:30am - 07:00pm

Wednesday

08:30am - 07:00pm

Thursday

08:30am - 07:00pm

Friday

08:30am - 07:00pm

Saturday

09:00am - 06:00pm

Sunday

Closed