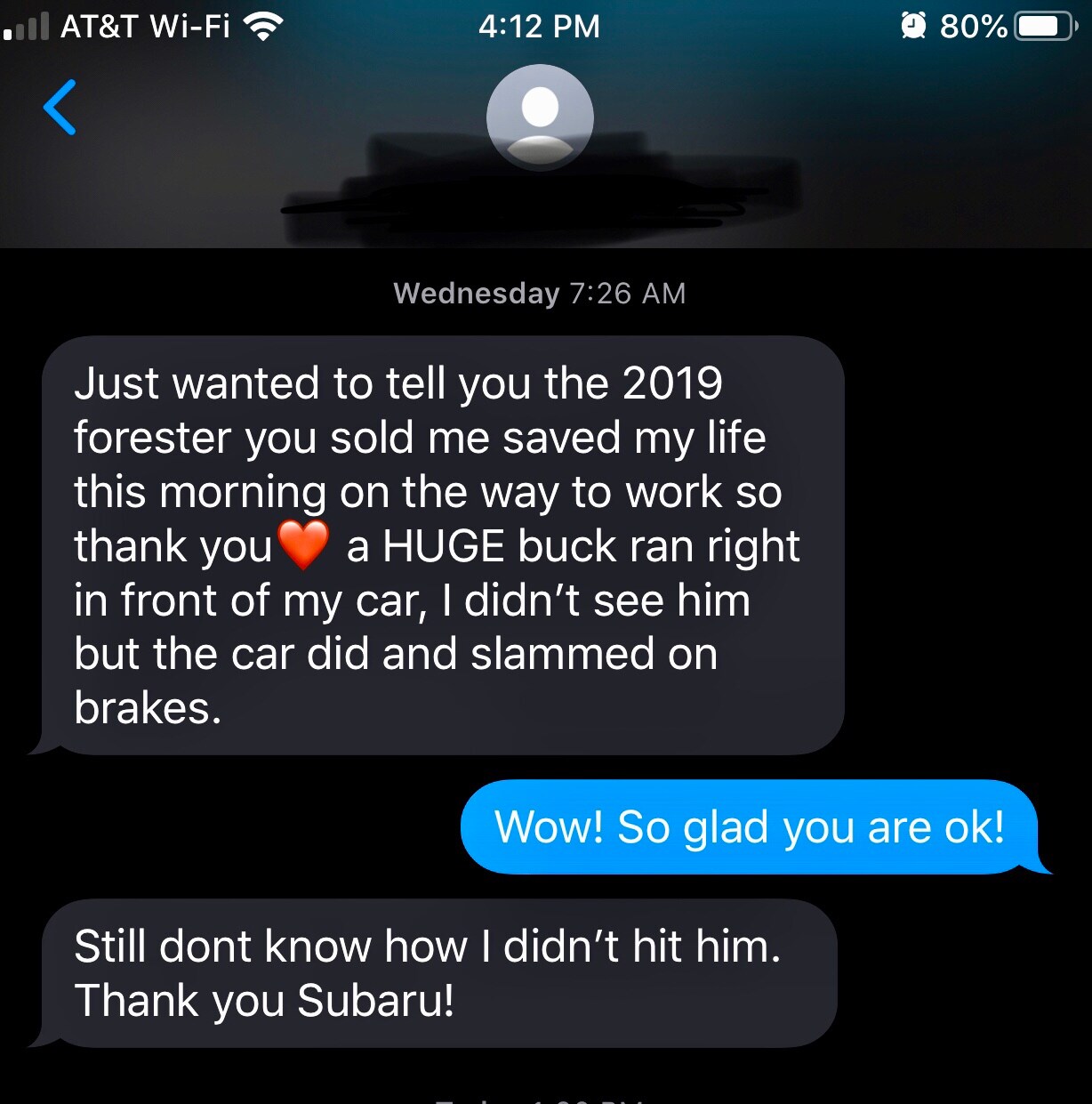 __________________________________________________________________________________________________________________________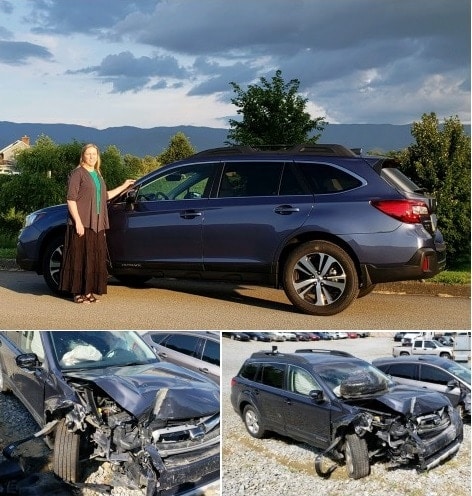 Welcome Paige Mengel to the Prestige Family. You can see Paige here beside her new Subaru near the mountains in East Tennessee where she was born and raised. She lives there with her husband, Frank Mengel, and they purchased their car from one of our Internet Sales Managers, longtime friend and former theatre co-worker/performer from Tusculum College, Delina Hensley.
Paige was recently in a bad accident that involved a very large utility pole. The pole did not survive. But Paige and the three other passengers in her 2014 Subaru Outback DID survive with merely a flesh wound (just a couple bruises).
Subaru has long been a leader in safety. Because of their high safety standards, Subaru continually remains on top of the pack as one of the safest vehicles on the road. Because of this, Paige decided to purchase a brand new, 2018 Subaru Outback Limited in twilight blue. She also made sure to include all of the extra safety features like Eyesight and blind spot detection. With these added features, Subaru gives you an extra set of eyes on the road to keep you and your passengers safely traveling to your next adventure.
We are glad everyone was ok and we wish you countless safe miles in your new Subie!
___________________________________________________________________________________________________________________________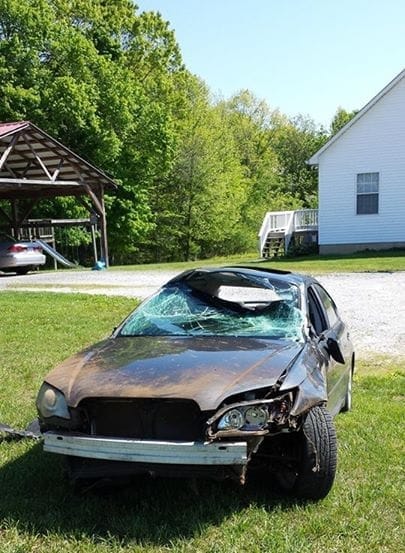 Subaru vehicles are known for their industry leading safety ratings. Glad she was in a Subaru this day. A submission from Prestige client Aaron Roberts:
"
This is what remains of my once beautiful 2009 Subaru Legacy. After hitting a deer, I lost control, careened into an embankment and flipped several times! When the car landed and the smoke cleared, the engine was still running. I drove it a mile up the road to my destination where, although shaken, I walked away without a single scratch! Thank God for Subaru! Also, we couldn't be happier with our New 2016 Lapis Blue Pearl Subaru Legacy! They are the safest cars in the world and the only ones I trust to carry me and my family! "

_____________________________________________________________________________________________________________________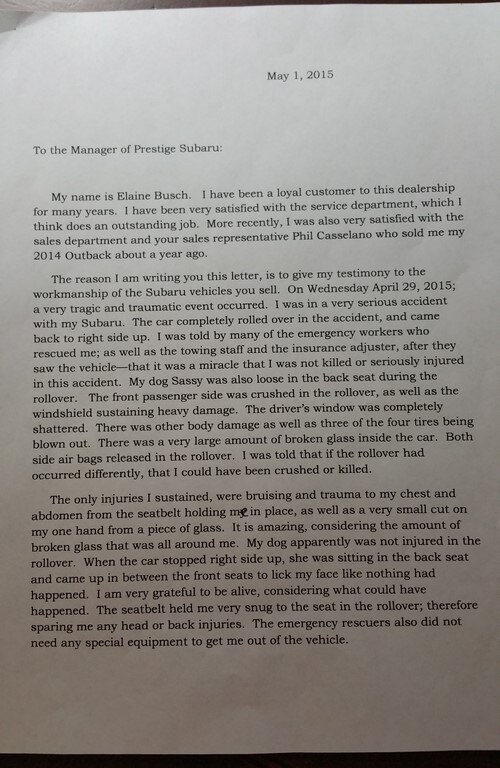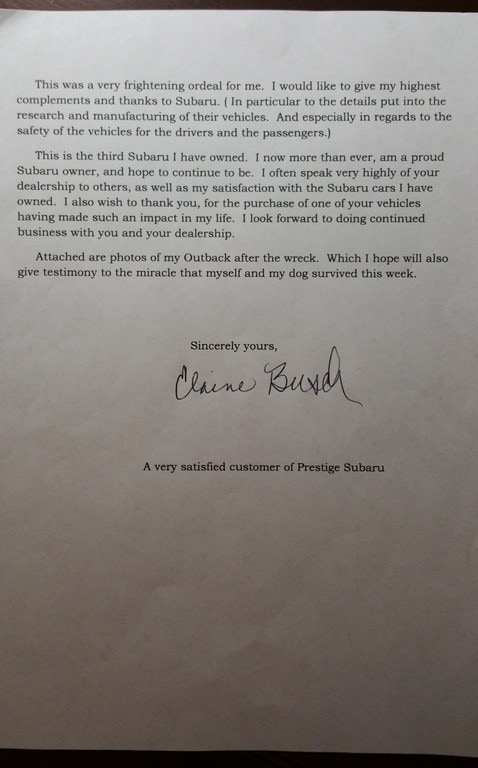 ___________________________________________________________________________________________________________________________
For the fourth consecutive year (2010-2013), the Insurance Institute for Highway Safety (IIHS) has recognized Subaru as the only manufacturer with a TOP SAFETY PICK winner for all models. Five Subaru vehicles met tougher criteria than ever before to earn 2014 Safety awards from IIHS.  Despite recent accolades Subaru vehicles of past years are very safe.
Shown here is a photo from Steven Matlack, owner of a 2006 Outback. His son's accident on a Sunday morning reveals how fortunate he was to be in a Subaru that day. The comments from the wrecker driver that pulled the car out of the creek ditch:
"Thank God he was driving a Subaru. I can't tell you the number of wrecks I go to, and the only car that can protect a driver like that once a car flips over is a Subaru. He doesn't know how lucky he is."
He is coming back in the next few days to purchase his next Subaru.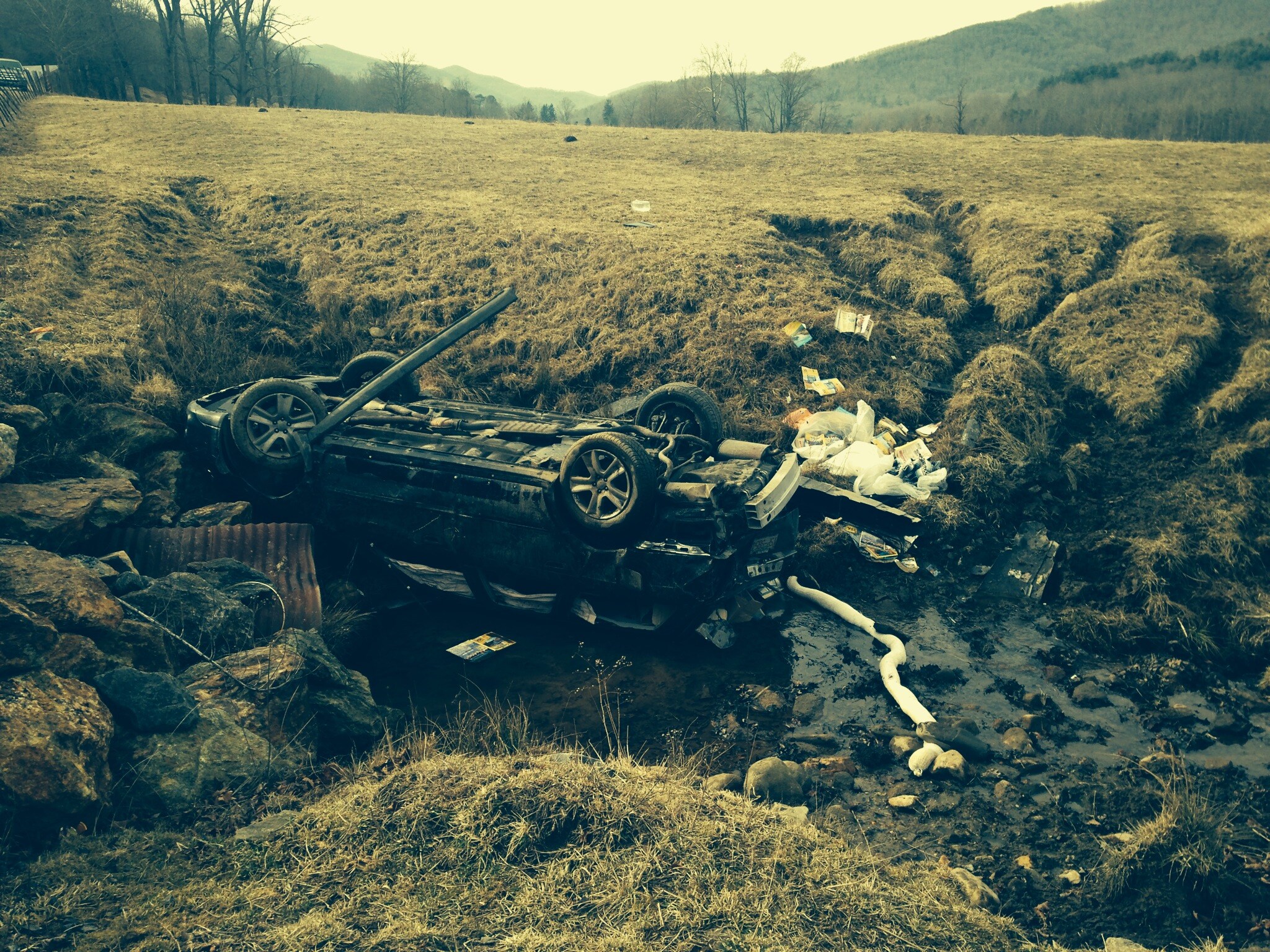 ___________________________________________________________________________________________________________________________
My name is Victoria Clark. I am 69 years old and living in Asheville North Carolina.
On September 12, 2012 I was involved in a single car crash that nearly took my life. Fortunately for me I was in my 2009 Subaru Forester.
It was a sunny day with low traffic and the cruise control was set to 60MPH. I had the feeling I was going to pass out. The last thing I remember was thinking " I need to pull over". The next thing I knew my head was under the dash board and my feet were pointing towards the ceiling of the car. My first thought was " how are they going to get all these air bags back in those little holes"??? I then realized the car was lying down on the drivers side and my face was very close to the pavement. I was told later that my car had pinged off a cement bridge abutment and went toe over tail and then barrel rolled across the freeway into the cement divider in the fast lane. The car then slid back all three lanes on the driver's side and ended up on the far right side of the road. 
I remember someone saying outside of the car saying "I think they are dead". I wasn't dead. Far from it! Yes, my neck was broken and my wrist. I had two head gashes that required many stitches and my right knee still sings when it gets really cold but I am not dead and by all accounts I should have been.
It took a couple of hours for the EMT's and police to get me out of the car. To this day I remember them and I am still touched by their enormous kindness and care. I wish I could thank them.
When I got out of the hospital my husband went about the business of taking pictures and getting what he could of my possessions. While at the wrecking yard he was approached by the man who owned the yard, he said "I am so sorry, I knew when I saw the vehicle it was a fatal accident". My husband then let him know that was not the case.
When the insurance company called after receiving the photo's they were astonished that this was not a fatal accident, they had never seen an accident like this in which the occupant had not been killed. 
It has now been 17 months and day before yesterday I bought a 2011 Forester. I am going to Raleigh next week, by myself?.I know I am safe!
They said it was a miracle and I say no?it was a Subaru!